Blogging is the new trend to get more traffic on the website for your business. Whether you have just started doing blogging on your Useful Tips for SEO website or you have been doing it for a long time, you might know that how difficult it is to get your blogs or website on top of the search engines.
However with some great SEO blogging tips and frequent attention at blogging, you can get ahead starts to compete with your competitors.
While it is still not exactly known that what is the right algorithm of Useful Tips for SEO to rank the website on top. But it is proven that blogging can help the business website to grow faster and get more traffic.
So here we are presenting you with 5 useful tips for SEO blogging to get more organic traffic:
1. Good content is a necessity: Quality content writing is the most important part of your SEO. With quality, SEO-friendly formatting is very important because of the Google algorithm looks for important words at particular places on your web page or blog post.
A good blog posting requires more than 500 words in it. If the blog is less than 500 words then Google will find it difficult to search your blog.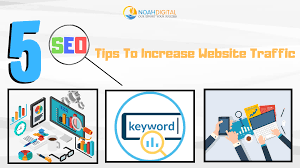 If you are posting the blog which is relevant to the public can get you more visitors and help you gain more audience. More traffic means Google will easily able to rank your website on top. If more of your blogs are getting read by people, your website links and ranks will go up naturally.
Well, above mentioned this is about posting good content, but make sure to keep the following things in mind while blogging:
a.) Post such content which is important for the public.
b.) Make sure to use the keyword which relates to your business.
c.) Look for your competitors.
d.) Check the trending list and post accordingly.
e.) Post unique content which is not similar to others.
f.) Post frequently.
2. Look for the keywords: It is really important that the keywords which you use for your blog content are the top keywords which are search most by the people.
Keywords: A keyword, in the context of search engine optimization, is a particular word or phrase that describes the contents of a Web page. Keywords are intended to act as shortcuts that sum up an entire page. Keywords form part of a Web page's metadata and help search engines match a page with an appropriate search query.
3. Put unique content on category pages: Different content on your blog's particular category pages can help boost your ranking. Especially if you put a blog post in subcategories. Having a unique copy on each category page will help the category page to not come across as spam.
4. Use easy sharing options for your content: If other sites and social media accounts are linked to your blog, not only will it lure more visitors to your site, it will also boost your rankings. Make it easy for others to link your content by including buttons for Facebook, Twitter, Pinterest, Reddit, and Google+ users.
5. Meta-Description is an important key: Meta description of your website also affects the click of the visitors. If you have a good Meta description that is easily understood to the visitors, then it will automatically give more traffic to your website. If you sum up other techniques with a good Meta description then it will absolutely help in getting traffic for your website.
Summing Up All:
Good SEO practices are absolutely important to get your blog ranked higher. It will take time for you to gain the knowledge and skills for making a difference in your rankings, but slowly you'll get there and all additional learning will eventually compound to give you an edge over your competitors. It's important to remember, however, that your rank won't shoot up overnight. SEO is a slow process and you have to be patient. But we can assure you that Useful Tips for SEO is worth waiting
If you need any more information about SEO or you are the one looking for the experts to get SEO done for your business, then please visit https://www.ramawebsolutions.com for more information.